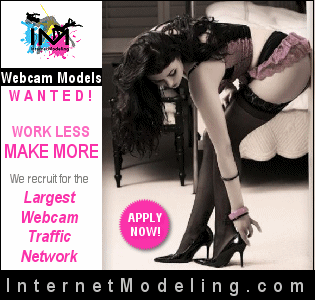 Have you ever wanted the opportunity to work at home, work your own hours and to make great money doing what you already love to do? If you are a showgirl or you are interested in getting into the business you could supplement your income as an independent contractor with InternetModeling.
Make money with this service, or use it to increase your earnings by referring your strip club clients to your website. The best part is that the transaction is private. Your client goes through the webcam service and they do not know where you are located, so you can be ensured of your privacy safety and security while you make guaranteed money online.
So, how much money can be made from Webcam Modeling at InternetModeling? How about 500-1,000$ a week for starters? This is the average income for InternetModeling models, and that is just the beginning. You will earn 80c/minute for each client that visits with you, and 1.00$/min for premium private chat. and with 5-10 clients in your personal chatroom that could add up to at least 27$ an hour. Just imagine the possibilities!
Some of their highest paid webcam models have made as much as $2,000 in a single day.
Also, the best InternetModeling entertainers receive paid incentive – their models who earn at least $500 per week will receive an additional 10% bonus. There is no better way to make money at home in your spare time. Your skills as a dancer will enable you to entertain your clients with ease, assuring repeat performances and guaranteed money.
InternetModeling (located in Tampa, Fl. ) is the Largest modeling network on the internet with a trusted business record. InternetModeling has over five million visitors per day. They give you all the information that you need to get started immediately.
They advertise and bring the clients to you, and you can refer your own club clients to your site online. They handle the transactions and the business end of it, bringing you peace of mind and enabling you to make as much as you want, whenever you want. There are no required working hours so it is perfect for those who have a life on the go.
InternetModeling accepts online applications for beautiful male and female models. You must be 18 or over to work for InternetModeling. You can work in many different categories according to the things that you like. There is no experience necessary but it is a benefit. When you apply you will be given an InternetModeling agent who will set you up, explain the process and answer any questions that you may have.
You must be personable and ready to work, and you must be able to speak English, and you also have to have a computer with a web cam setup. Take a few minutes to visit the Internet Modeling Site, read the FAQ and get an application. Most models are able to start work immediately.
Read more Articles on Exotic Dancing →